Curriculum Vitae
General Info
Name: Svetlozar Kostadinov
Location: Sofia, Bulgaria
Nationality: Bulgarian
Born: 18 April, 1983
Languages:

Bulgarian (native)
English (technical)
Photo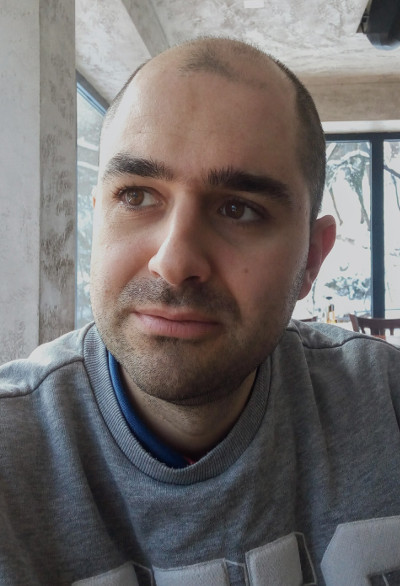 V-Card
Scan with a QR Reader app to get my contact info in your phone: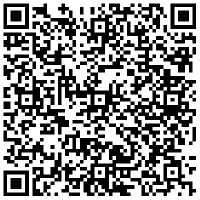 Education
BSc in Computer Sciences - Technical University of Varna
Personality
Strong ability to self-motivate;
Enjoys friendly teamwork but can also work and solve problems fully autonomously;
Fast learner, loves to acquire new skills and develop existing ones;
Tries to keep up with latest trends in technology and IT market;
Has keen attention to detail;
Loyal and word keeping;
Challenge-driven;
Favorite things: coffee, reading, sea diving, ski, cycling;
Technical Skills
Programming Languages: Java (advanced), Kotlin (advanced), C/C++ (old, not practiced recently);
Other Languages: SQL, HTML, XML, XSLT, CSS;
Mobile Technologies: Android SDK, Android NDK, Location, Camera, Notifications, Google Maps, Sensors, Media;
RDBMS & ORM: SQLite, Spatialite, GreenDAO;
Debugging tools: DDMS, Logcat, Stetho, Timber, LeakCanary, ACRA, Crashlytics, Eclipse MAT;
Testing tools: jUnit, Mockito, Espresso, UIAutomator;
Version Control Systems: Git, Mercurial;
IDE: Eclipse, Android Studio, Intellij IDEA, Visual Studio, Atom;
Operating Systems: Ubuntu Linux, Windows;
Niche & Other Skills
Geospatial: Maps, Map projections, geodetic datum transformations, Proj4, Spatialite, Georeferencing, Hands-on experience with WFS, WMS web services, GeoServer, GeoNode, Django, MBTiles, GeoJSON, TopoJSON;
Image processing: Image processing, OCR & text recognition with OpenCV/Python
Graphics and geometry: 2D and 3D analytic geometry, CAD, OpenGL, Direct3D (basic, old);
Web: Jekyll, WordPress, Xoops, Drupal, website administration & CMS management;
Multimedia: Inkscape, Photoshop;
Android developer

Endava

Architecture and development of a native Android payment SDK for a large European payment service provider. Responsible for creating a pluggable framework, API design and extensible UI components for handling various payment methods (incl. credit cards + 3DS, SEPA, PayPal, etc.). I worked over card scanning feature using camera and OCR. I participated in the design of the security scheme appropriate for mobile SDK authentication.

Tools: Kotlin, Coroutines, OkHttp, Retrofit, Moshi, REST, JSON, Material Components, ViewModel, LiveData, Chrome Custom Tabs, JUnit, Mockito, Robolectric.

Android & Python developer

Endava

The customer was in the wrist watch industry. The project had Android and iOS applications and complex image recognition backend logic. The client is a worldwide electronics company, primary known for its watches; it is also the core company is a Japanese global corporate group based in Tokyo.

I had 2 distinct roles in the project:

Python backend developer May 2018 – June 2018

Implemented a small image recognizer backend with Python and Google Cloud Vision API. Image pre-processing, calibration and analysis with OpenCV. Post-processing with various Machine Learning techniques for optimizing the recognition rate. The recognizer was written as a standalone Python command line tool which then was wrapped into a Java Spring REST service. The system was able to recognize a concrete watch model from a photo within >90% probability.

Technical skills and tools: Python, Google Cloud Vision API, OpenCV, image processing.

Android developer July 2018 – Sep 2018

I was responsible for developing the Android client. It was a non-Material style app with about 16 screens and relatively complex navigation flows. The app included camera, files downloader, authentication with Facebook and Google accounts, notifications, synchronization with the REST backend. I have combined successfully some latest technologies and advancements in the Android industry: 100% Kotlin, MVI fully reactive unidirectional flow, immutable models. The result was a stable app with a small, easily testable and clean codebase.

Technical skills and tools: Android: Kotlin, KotlinX, Dagger-Android, OkHttp3, Retrofit2, RxJava2, Moshi, Mosby-MVI, Fotoapparat, ThreeTenABP, Glide, Timber, LeakCanary, Junit, Espresso, Mockito.

Android Developer

Indie

End-to-end developer and designer of MovieLovers - an Android app for cinema and TV fans. Provides a comprehensive information about movies, shows and celebrities. The accent of the app is Material Design with a lot of attention to detail.

Unidirectional reactive architecture based on Mosby-MVI.
Separated Data/Domain/Presentation layers and fully immutable models.
Consuming RESTful web services, pagination, disk and memory caching, full state restoration.
Can operate fully offline with connectivity alerts.
Using nested RecyclerViews with layout performance optimizations via shared RecyclerView pools, image preloading and more.
Heavy use of imagery, custom-crafted animations, transitions and other visual effects.
Gesture navigation.

App is available for free at:

Environment: Kotlin, RxJava2, Dagger2, Retrofit2, TMDB, GSON, Glide, Mosby-MVI, Conductor, PaperParcel.

More details and screenshots: Portfolio.

Android Developer

Hi-Tech Research & Consulting, Varna

End-to-end developer of GeoWorld app - advanced Android geocoordinate converter for geodesists and field surveyors. Offers unique features on the market. Role highlights:

Solo developer responsible for all stages of the development lifecycle - from idea to maintenance, including deployment, localization, end-user documentation, analytics, customer tech support.
Designed and implemented responsive UI/UX in portrait and landscape for phones and tablets following Material Design guidelines with usage of simple animations. Early adopted the new Material appearance.
Very good understanding of the Java OOP design patterns and paradigms like Clean Architecture, MVC, MVP and MVVM.
Gained in-depth knowledge of the Android platform, tooling and the Support libraries.
Proficient in subjects like: Dependency Injection, Data Binding, SQLite for offline database storage, Accounts and sync.
Fluent in multi-threading with Thread, Handler, AsyncTask, Service, IntentService, Loader, RxJava.
Extensively worked with the most used widgets like RecyclerView, DrawerLayout, CoordinatorLayout, ActionBar, ViewPager, CardView, ProgressBar, fragments, layouts, dialogs, toasts, implemented custom widgets with canvas drawing, full-screen activities.
Crafted XML layouts with precise measurements complying the Material Design spec.
Experience with Android API's like Intents, Runtime Permissions, Notifications, ContentProvider, AccountManager, Camera, Sensors, GPS, Location Service, Files API, Internal/External Storage, File and Document Providers, MediaStore, MediaPlayer API.
Experience with Google Maps API and Google Places API.
Implemented an in-app store for monetization based on unlockable app features and content using the In-App Billing library.
Implemented banner and interstitial Ads with AdMob and Ogury.co.
Awareness of the common pitfalls and quirks associated with Android development.
Extensively used libraries like RxJava, Dagger2, GreenDAO, Picasso, Retrofit, GSON, OkHttp, Jsoup, JodaTime, ButterKnife, Parceler, PaperParcel, EventBus, Binding-collection-adapters, KotlinX, Timber, Stetho, DexCount.
Experience with RESTful web services, HTTP authentication, OAuth2, XML, JSON.
Experience with scraping HTML web sites and using them as emulation of REST API with the help of Retrofit and Jsoup.
Experience in database design using SQLite and Spatialite.
Refactored a large fragment-based codebase into clean Reactive MVVM + Data Binding architecture.
Experience in unit testing and integration testing on device and emulator using JUnit, Mockito, Espresso & UIAutomator.
Implemented continuous integration using CircleCI for the project's Git repository in BitBucket.
Successfully set up ACRA bug reporting backend and Google Analytics and used it to collect anonymous data about runtime problems to keep the users from experiencing fatal crashes.
Implemented a one-click APK publishing process for all app flavors and CPU architectures.
Knowledge of integration, building and debugging of multi-architecture C/C++/JNI projects using Android NDK.
Used Git and Mercurial as version control system (VCS).
Refactored into Kotlin to improve code clarity and simplicity of core classes.
Ported Spatialite database for use in Android as a geospatial engine: android-spatialite.
Hands-on experience with hybrid apps using Cordova/PhoneGap.
Hands-on experience with geospatial and map technologies like Spatialite, GeoNode, OsmDroid, OpenLayers, Leaflet, MapBox, MBTiles, GeoDjango, GeoServer, WMS, WFS.
Studied the principles, standards, methods, categories of geospatial map projections and coordinate transformations, geodetic datums and successfully applied the knowledge into a complete product.
Written a detailed 70 page end-user manual in Google Docs with screenshots, diagrams, tables and styles.
Designed a vector logo and multiple icons in InkScape.

More details and screenshots: Portfolio.

Java SE Developer

Hi-Tech Research & Consulting, Varna

PanelHome3D is an innovative Java desktop CAD software developed for companies, producers of polystyrene panels for building construction. Heavily customized fork of the popular open-source project SweetHome 3D. Sketching of simple construction plans of buildings. Analyzes the entire building geometry (walls, floor, ceiling, roof) and automatically generates a list of precise geometry shapes of the sliced panel pieces. The output geometry data is collected and formatted into a book of printable sheets. This book is a plan for the construction workers to assemble to panel pieces into complete buildings.

Environment: Eclipse, Java SE 6, MVC, XML, Swing, AWT, Canvas, JIDE UI toolkit, Substance, Flamingo, JavaGeom, jMonkeyEngine, JNLP, Applet.

Solo developer of the project (the fork);
Implemented custom Swing MVC components;
Heavy use of AWT Canvas and 2D graphics;
Implemented Print Preview zoomable page layout;
Developed a Roof editor (3rd party algorithm);
Developed a Wall editor;
Developed a 2D polyline sketcher with advanced snapping;
Implemented dynamic 3D scene view with jMonkeyEngine.

More details and screenshots: Portfolio.

C++ Developer

Hi-Tech Research & Consulting, Varna

Buildware 3D is a Windows CAD modeler software from the early 2000s written in C++ and based on the OpenCASCADE engine and OpenGL. Has 2D/3D modelling environment for interactive construction of geometry primitives, coordinate systems, layers, snapping, print layouts, property list UI. Heavy use of COM (the predecessor of .NET). Has a small core and modular design for high flexibility and extensibility through a custom plug-in framework based on COM interfaces. I was a member of the team of 3-5 developers.

Environment: Visual C++, MFC, COM, ATL, IDL, WinAPI, GDI, OpenGL, OpenCASCADE, Prof-UIS.

Highlights of my participation in the project:

Working with very large codebase;
Extending the existing codebase with additional features, improving legacy code, bug fixing;
Responsible for the GUI and the plug-in subsystems;
Implementing COM plugins which provide interactive operations over visual geometry objects like polylines, splines, boxes, prisms and more.

Boolean operations (Cut, Union, Intersection);
2D operations (Move, Rotate, Mirror, Scale);
3D operations (Fillet, Chamfer, Extrude);

Integration of the Prof-UIS MFC GUI library: implementing multi-pane layout, tree-view, toolbars, menus and a multi-selection PropertyGrid with binding to COM objects;
Participated in an effort to integrate a parametric CAD modelling core provided by OpenCASCADE.

More details and screenshots: Portfolio.

BSc in Computer Systems and Technologies

Graduated from Technical University of Varna.

Secondary education

Gymnasium of Finances and Economics - Dobrich.

First PC

Started learning computers and programming on my first PC: 386DX 40 MHz. My first programs were Turtle graphics in Basic and Pascal.

Hello World!

Born in Dobrich, Bulgaria.